Veröffentlicht am: 11.12.2014

Report Software for Knowledge Management
Comparison of Wikis, Knowledge Databases, Groupware and Search Engines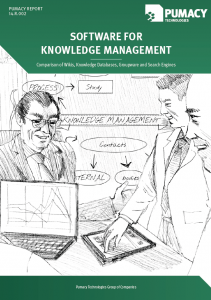 The Pumacy report "Software for Knowledge Management" describes which software is appropriate for which company.  Wikis, structured knowledge databases, groupware or enterprise search are designed for different areas of application and priorities. The report compares expenses for cost, training, implementation, and customization based on the six following categories capturing, storing, applying, evaluating, developing and distributing knowledge. The report gives system examples and provides additional information and links. Besides an overview of different software solutions the study shows what has to be considered when selecting a software and which decision criteria are relevant.
Order the complete report free of charge as PDF! Complete the form displayed below.
---
Management Summary
Virtually every organization practices knowledge management – some strategically, others just intuitively. The "Software for Knowledge Management" report offers assistance and guidance and explains which tools are suitable for which purposes. The "Knowledge Management Trends 2014-2023: What practitioners use and visionaries expect" study presents and explains a wide range of knowledge management methods. Several organizational and human resourceoriented methods are listed alongside technologyintensive tools.
The right choice of a software tool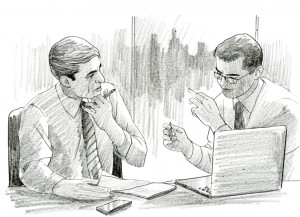 In the same way that knowledge management concepts catch on sometimes dynamically, sometimes strategically in organizations, so it is with software tools: some organizations plan and make up their minds analytically with longterm strategic focus, however the majority focus on results that can be achieved in a short period of time either on a situation by situation basis or simply arbitrarily. Today the damage done by software decisions that initially seemed pragmatic or by improper restrictions is becoming clear in many places. Software applications that have grown unchecked and in a decentralized fashion cannot be consolidated, authorization concepts are absent, searches only deliver results from a fraction of the body of knowledge, automation and data cleansing mechanisms cannot be retrofitted and require laborious manual modification. Today, making a start on knowledge management is considerably easier thanks to more clearly defined software categories and mature applications.
This report is a complement to the abovementioned study and focuses on "software tools for knowledge management". The technologyintensive methods derived from the study can be summed up in four clusters in this report: enterprise wikis, structured knowledge databases, groupware/collaboration management and enterprise search.
IT as necessary tool for knowledge managers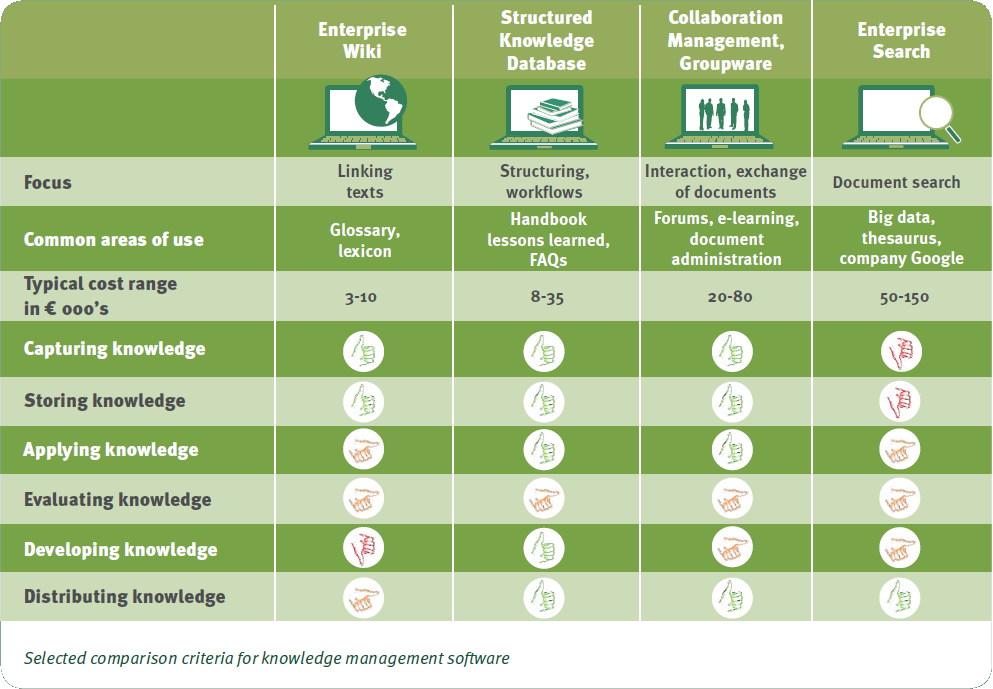 An analysis of the methods shows that it is almost no longer possible to retain knowledge in the organizational loop without information technology. IT must be seen as an essential tool, and without tools the knowledge manager is at best a visionary. Knowledge management systems should not be understood as additional software programs, but as an integral part of a tool box that exists to support staff to the greatest possible effect. Even if the methods have become very software-oriented, people and employees still remain the focus. Practicality is therefore the first priority. In the case of small and medium-sized enterprises (SMEs) in particular, the potential of a strategic knowledge management system geared towards the competitive advantages offered by knowledge is often not fully exploited. High investment costs, time and organizational outlay may be reasons for this. A lack of knowledge about the systems available on the market and the selection criteria to be considered have been identified as further significant obstacles.
Requirements on knowledge management software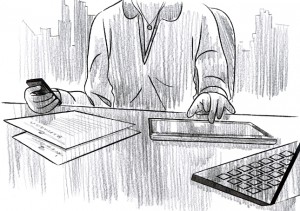 The tables in this report enable requirements to be surveyed in a structured fashion, and the preliminary choice of a certain software system category to be substantiated. If, for example, a medium-sized enterprise wishes first and foremost to combine its quality management with modern knowledge management, and to capture, store and develop knowledge, the table recommends a structured database. The investment costs are clear, processes can generally be easily defined and roles assigned. Social network features such as blogs or profiles are also mostly possible.
If, in contrast, a DAX company wishes to analyze and visualize its many areas of knowledge, and to evaluate and distribute knowledge, then it is worth purchasing an enterprise search solution. These search engines are not designed for documenting knowledge, but instead for distributing what exists and making it available to as many users as possible. Well-visualized data queries support marketing, as well as innovation management. None of the other systems can better manage the large and very diverse information quantities – nowadays known as "big data" – but such a solution is also likely to be more expensive than other solutions. €50,000 to €150,000 is the likely range.
In contrast to this is the purchase of an enterprise wiki, which, thanks to open source, is also very cheaply available. Admittedly, a wiki is really only on a par with a search engine in a few categories. For those who only have a little money to spend, and who wish to equip a small team that is enthusiastic about technology, and in particular wish to capture and store knowledge, different wikis should be compared and contrasted. The "Spoilt for Choice – Wiki Software for Knowledge Management in Organisations" study should be of use in this respect.
However, the moment of glory of the enterprise wiki has passed, as many cannot keep pace with the requirements of social interaction as seen on social media platforms. If, for example, a culture of "liking", "tweeting", "plussing", "pinning" and "posting" is at the forefront of collaboration, then collaboration management systems help to support this. These systems are very diverse and fare very well when it comes to capturing and storing knowledge, as well as utilizing and distributing it. Irrespective of the choice of tool, it should be remembered that every use case is unique and a long-term commitment needs to be well thought through. In this report, additional advantages of the respective systems are compared and contrasted in various tables which help support this important choice.
---