EXALEAD OnePart
OnePart rapidly locates and makes sense of design parts information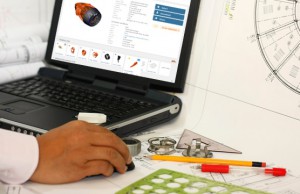 Does this sound familiar to you? Every day designers and engineers are designing more and more new parts. Why don't they just find and reuse similar or equivalent parts that already exist inside the company's legacy data assets? The main answer is: because searching for parts and related information is very time-consuming. Without an efficient tool to rapidly find and compare similar parts hidden inside data sources and silos scattered throughout the company, design engineers simply choose to recreate the part rather than spend unproductive time searching. Although they may not realize it, creating new parts impacts the company's net profit. Substantial time and costs are incurred if you need to acquire or produce new parts, leading to more production procedures, quality controls, and stock of inventory.
These extraordinary time and costs efforts for part design could be avoided by searching the company's part data stock easily, fast and without faults. And there is a simple solution: EXALEAD OnePart, a web based software tool produced by one of the top PLM companies Dassault Systèmes, provides a straightforward and ready to use business discovery application.
Who will apply the software?
With EXALEAD OnePart, engineers, managers, technicians, and procurement specialists can quickly and easily find and reuse existing parts, product designs and other related information located anywhere inside the organization. In particular, companies with large data volumes originating from various systems can take considerable advantages of applying EXALEAD OnePart. Moreover, a continuously increasing number of new parts indicates a profitable application of EXALEAD OnePart.
Screenshots and Movies
Typical industrial sectors of application are:
Transport and mobility
Industrial machinery equipment
Energy and processes
Measurement and control technology
Life Sciences
Hightech and electronics
Main features of EXALEAD OnePart
Based on EXALEAD CloudView proven technology, EXALEAD OnePart helps designers and engineers find a reusable part very fast and with little efforts so that they can determine whether it is really necessary to create new parts and incur the associated costs.
Search parts, assemblies, and drawings from various sources and formats (common CAD-formats such as CATIA V5, SolidWorks, Pro/E, NX und Autocad and others)
Fast and comfortable web search functionality with auto-complete search box
Simple navigation through the companies data sources
3D mechanical feature mining (locating parts based on holes, pads, grooves, and others)
Facet oriented search for names, dates, authors, formats and other technical parameter
Side-by-side/metadata comparisons to quickly highlight the most relevant part for reuse
Navigation into the parent and children relationships of an assembly
Shape search to find similar parts based on a known reference part
Presentation of related documents such as drawings, BOMs, or process sheets
Preview of all relevant documents, direct start of installed applications
Integration of ERP and PLM data
User-friendly display of charts and graphs with configurable KPIs for rapid analysis
Advantages at a glance
The broad functional range of EXALEAD OnePart provides the user with extensive advantages.
Avoid creating duplicate designs and parts
Support decisions on parts reuse or design new ones
Increase knowledge worker productivity and decrease training costs
Leverage existing knowledge to enhance products
Reuse proven and tested 2D/3D assets from legacy data immediately
Repurpose past designs hidden from view
Decrease redundant inventory and support
Speed development and ramp-up time for new projects
Decrease time-to-market and increase agility
Improve quality and decrease risks
Lower costs and free up working capital
EXALEAD OnePart can be implemented and set-up quickly, its administration is very easy. Its user-friendly and intuitive handling guarantees a speedy plug and play deployment and a pleasant usage. If requested we offer on-site user instruction and trainings.
Save time and become more efficient by using EXALEAD OnePart
EXALEAD OnePart supports you to rapidly get access to parts data from distributed sources and in various formats. Beneficial effects in your company are an optimized reuse of parts, designs and related documentation, thus an accelerated product development and delivery and decreased design, material, manufacturing, and storage costs.
A tailor-made solution for you –EXALEAD OnePart and our experiences
Are you interested in this search based solution and do you need further information? Or are you looking for a professional solution provider who pinpoints all additional opportunities for both your knowledge management and process management?
We are pleased to provide our expertise and to support the whole EXALEAD OnePart introduction process. This comprises the installation and configuration of the system, the definition of appropriate application processes as well as training and support.
Please contact us!
Our Services for you
Adjustable to your specific needs, Pumacy provides a full service package to leverage EXALEAD OnePart potentials in your company:
Independent analysis of your requirements and concept consulting
Calculation of the Return-on-Investment (RoI) deploying EXALEAD OnePart
Installation of EXALEAD OnePart on your IT infractructure
Configuration and testing of the system
Training of admins and key users, instructions for all other users
Remote or on-site services
Further consulting for advanced solutions development
We appreciate demonstrating EXALEAD OnePart via web-session or at your facilities.
Please contact us!