Knowledge Structuring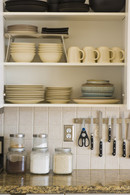 K.structure helps you to structure organisational knowledge and to keep critical knowledge inside the organisation. Your employees have to deal with a huge amount of data and store these data within their personal filing structures. This behaviour requires from organisations to produce a new form of knowledge structure. K.structure makes experts, their knowledge and experience visible across the organisation. They become valuable contacts for collaboration and the exchange of ideas and information.
K.structure helps to analyse practices of knowledge structuring. The results of this analysis are used to define a common language, structure and logical filing structure while integrating existing structures.
Our interdisciplinary team has many years of experience in providing appropriate solutions and valuable expertise in this field. Together we define a time schedule for the entire project and face-to-face interviews. Group workshops and trainings for employees help to introduce the solution, allow data migration, and prepare staff for the sustainable management of wikis (intranet, MS SharePoint, shared drives, knowledge books).
K.structure helps you to make documented knowledge accessible across your organisation. The knowledge is made available according to the individual needs of your employees. An applicable filing and navigation structure provides an overview of key contacts and experts of your organisation and encourages the continuous development of knowledge.