Biomimetics
Creating ideas based on biomimetics for your success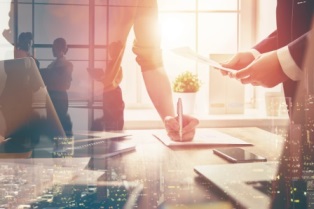 The success of a company is often dependent on innovation potential and thus especially to the development of ideas within an organisation. Every now and again there are tasks, which are difficult to manage by using common methods and procedures. Analogical research is an established approach to get inspirations from similar challenges in a different environment. Biomimetics is a specialisation of analogical research and thus a systematic method of gaining knowledge from nature and applying this knowledge to technological problems.
Biomimetics in development and innovation of companies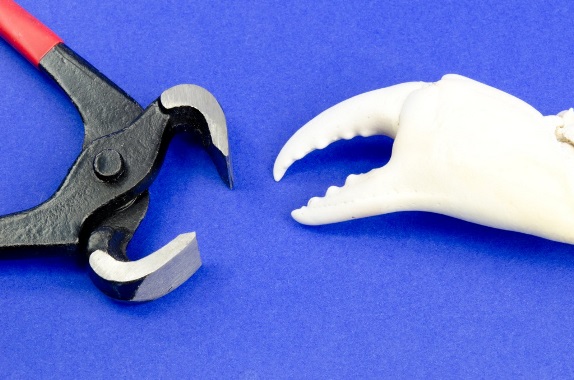 More and more experts within research and development use nature as a source of innovation to identify the improvement potential and integrate this into their own innovation process. It is already possible to decrease development times by using the method of biomimetics, which is a multidisciplinary approach. Furthermore, biomimetics and learning from nature provide a high recognition value and enjoy competitive advantage. Biomimetic findings are useful for several industries:
Light weight
Optimisation
Material science
Fluid dynamics
Architecture
Robotics & sensors
Functional surfaces
"The biomimetic experts of Pumacy support our engineers and experts in learning from nature." (Dr Markus Durstewitz, AIRBUS)
Learn how to benefit from nature during our biomimetic workshops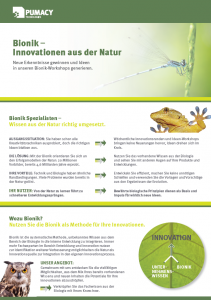 Do you want to improve your product by using inspirations from nature? Are you stuck within a problem and do not find conventional solutions? If you like to try a new systematic way to solve a problem and gain new knowledge from nature, we offer biomimetic workshops and trainings to support you during this process. Biological models provide inspirations for you innovations. We show you how to use this potential adapted to your needs by applying our know-how and expertise in knowledge and innovation management. Be one step ahead of your competitors!
We will give you an introduction into fields of application, methods and products of biomimetic
You will learn how to use nature as a source of inspiration, how to use this large pool for your innovations and gain ideas inspired by nature
Our way of working
1. Preliminary meeting You describe your problem and the status quo (ca. 2 hours)
2. Screening We will search for biological models / principles and prepare handouts / presentations of the essential points understandable (ca. 2 weeks)
3. Inhouse Workshop We will support you and your team during the idea finding process by using the prepared information on biological models (1 or 2 days)
Introduction into biomimetics
Biomimetics as an innovation method
Presentation of the biological models / principles / analogies
Abstraction and application for problem solving
Idea generation, description and sketches / prototypes
Discussion and evaluation of the ideas
4. Documentation We will do the wrap-up (2-3 days after the workshop)
5. Results You will get the idea collection, sketches / prototypes and the complete documentation of the workshop