Organisational Networks
With the development of efficient and flexible networks you avoid the unsystematic exchange of knowledge in self-organised and informal expert groups, the lack of information exchange – especially in the cross-sectoral collaboration – as well as the insufficient personal support of a systematic exchange of knowledge and experiences between employees and teams.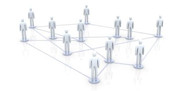 Before we develop a network strategy with K.community we take a look at your current business structures and processes and make sure that the available technological infrastructure is integrated within our planning. We help your teams to independently organise and perform their tasks throughout the development process.
K.community includes target setting workshops, social network analysis (SNA), moderation of kick-off meetings, frequently asked questions (FAQ), adapted learning materials (Communities of Practice process and templates) as well as the development of an introductory strategy. With this set of methods we analyse the level of efficiency of the available IT infrastructure and develop guidelines for a successful application of the information technology within your networks.
Additionally, we support your network activities with our web-based knowledge management platform KMmaster® (www.kmmaster.de) for a successful management of lessons learnt and good practices within your organisation.