Veröffentlicht am: 11.08.2014
Knowledge Management Trends 2014-2023: What practitioners use and visionaries expect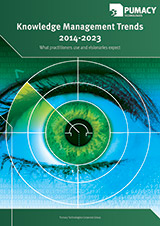 The trend study of Pumacy Technologies AG answers the question of which knowledge management approaches have a chance to succeed in practice. The authors have examined all practices for their application and distribution by applying a hype cycle approach. The hype cycle illustrates the different phases of public attention that an innovation goes through during market introduction. For each method and technology the chart shows whether it is already being used in practice or is still subject to development. In addition to this data, the study shows when the different knowledge management trends will become established. The respondents are all knowledge management practitioners and visionaries, most of them in managing or executive positions in large companies.
You can order the study free of charge at the end of this site!
---
 Customer Reviews
"Thank you very much for the Knowledge Management Trend Study. Fascinating to see how it echoes our experiences in the Australian market, particularly in relation to Search Engines, Tagging, Storytelling, Knowledge Maps, and Wikis." (Vanessa Toholka, Minter Ellison Lawyers)
---
MANAGEMENT SUMMARY
The Hype-Cycle-Study on knowledge management trends by Pumacy Technologies AG shows that most of the examined knowledge management practices have already reached operative corporate use. The study's authors conclude that the still-young discipline of knowledge management is becoming a part of operational processes across industries – at least in larger companies.
Most practitioners generally agreed about classification of the knowledge management practices. Some practices were subject to high variance (spread of the answers) as illustrated in the respective sub-chapters.
Therefore, four specific categories were developed to classify the practices as follows according to their results on the market – based on the hype cycle of Gartner Inc.
Knowledge management practices along the hype cycle
[abstand40]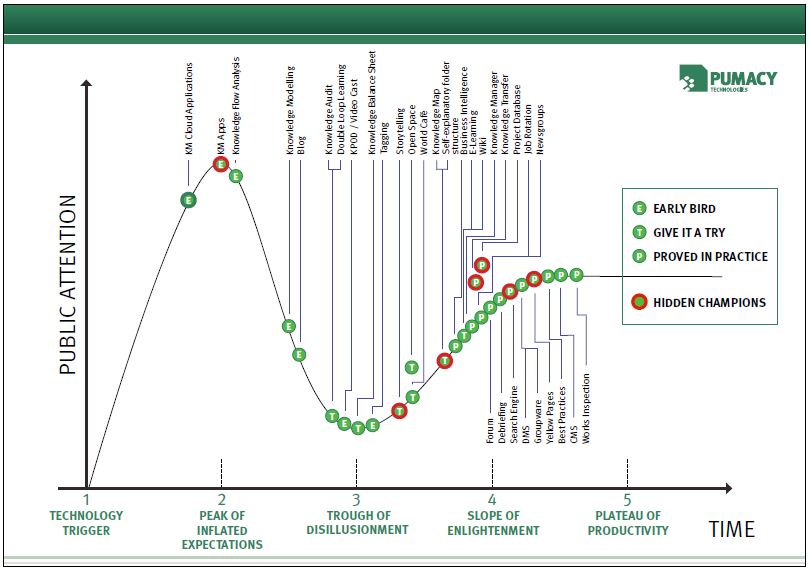 [abstand80]
Classification of knowledge management practices according to their results on the market
[abstand40]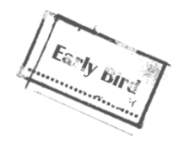 EARLY BIRD
These practices are relatively new and are still being tested. They are particularly interesting for further development of knowledge management and therefore also interesting for research.

GIVE IT A TRY
These approaches have been used in practice for a while but lead a niche life. The practices are preferably interesting for organisations with established knowledge management.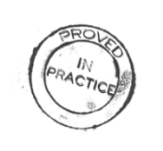 PROVED IN PRACTICE
These are knowledge management practices that are currently becoming established in practice or that have already become established.

HIDDEN CHAMPIONS
These practices are already recognized in some areas but are overall little-known. They are continually assessed as positive and characterised by a particularly good cost-benefit ratio.
[abstand80]
Work on the trend study commenced with the development of its underlying method and design in 2012. In a second step, the knowledge management practices were selected. More than 120 knowledge management practices were collected from literature, synonyms were summarised, put into categories and condensed to 32 KM practices. Additional trends not noticed in literature resulted from the pre-tests in step three. The study was performed in April and May 2013. More than 40 completed questionnaires were evaluated.
Phases of knowledge management trend study
[abstand40]

[abstand40]
Most of the practitioners asked were from industrial companies with more than 2500 employees. Most of them work as managers or project managers. The participants were deliberately limited to knowledge-management-applying companies and selected visionaries to map an image of corporate reality that was as specific as possible. 42 persons participated in this study in total.
Company size and positions of the respondents
[abstand40]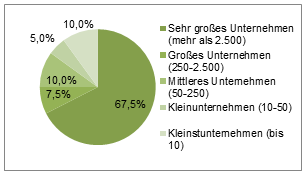 [abstand40]
Many knowledge management methods known by name have already reached practical use ("Proved in Practice"). In this category, the practitioners agree about wide distribution specifically in regard of work inspections, search engines, groupware systems, best practices, forums, business intelligence and content management systems.
Practices that are (partially) still waiting for widespread introduction ("Give it a Try") are expected to reach the plateau of productivity within two to five years. This includes the methods of knowledge transfer, knowledge manager, Wiki, knowledge map, self-explanatory folder structure, e-learning, storytelling and World Café. The other methods from this category will need some more time.
The dissemination of the methods World Café, storytelling, knowledge modelling, knowledgepod/ video-cast, open space (15-20% say no establishment for each) and knowledge balance sheet (26% expect it not to become established) is considered as least foreseeable.
Controversial assessments on the hype cycle positioning resulted for the practices of tagging, project database, CMS, self-explanatory folder structure, business intelligence, knowledge audit, knowledge balance sheet, open space, World Café and double loop learning. A frequent cause for this was that these practices have long existed but are still hardly known or only used in niches.
Knowledge management practices and their categories
RECORDING KNOWLEDGE
Best Practice
Debriefing
Knoweldge map
Knowledge Flow Analysis
Wiki
Storytelling
World Café
Knowledge modelling
PRESERVING KNOWLEDGE
Knowledge transfer
Project database
Content Management System
Document Management System
Wiki
Self-explanatory folder structure
KM cloud application
APPLYING KNOWLEDGE
Knowledge manager
Expert database/yellow pages
Business Intelligence
Knowledge-Pod/Video-Cast
EVALUATING KNOWLEDGE
Search engine
Tagging
Knowledge audit
Knowledge balance sheet
DEVELOPING KNOWLEDGE
Works inspection
Job rotation
E-Learning
Open Space
SPREADING KNOWLEDGE
Groupware system
Blog/Microblog
Forum/knowledge Marketplace
Double loop learning
Newsgroup/Feeds/RSS
Knowledge management App
If you are thinking about improving your knowledge management, first determine your focus. A look at the following six categories that list the most important methods is helpful for this. Other practices and any present synonyms are named in the corresponding chapters.
Knowledge management practices by trend status
EARLY BIRD


PROVED IN PRACTICE


HIDDEN CHAMPIONS


GIVE IT A TRY