Veröffentlicht am: 14.12.2017

UPTIME – Predictive Maintenance for Optimized Lifetime of Production Systems
Pumacy launches research projects in the field of predictive maintenance together with international project team
Bremen, November 30th 2017 – Pumacy Technologies AG started the UPTIME project together with a European consortium. The aim is to develop an integrated predictive maintenance system for the manufacturing industry. The motivation for this is the increasing demands on product quality and reliability of production. This is no longer only to be ensured by traditional quality assurance, which is why research and development departments around the world are looking for new opportunities. A predictive maintenance can have a considerable influence, e. g. on the availability of production plants, by carrying out maintenance and repair measures not statically but on the basis of permanently measured condition data.
The maintenance system planned in UPTIME will be able to process heterogeneous data from different sources (e. g. sensors, machine and production control data). Based on this, different analyses and their visualization should signal impending machine failures and suggest countermeasures. UPTIME will thus expand and standardize the new digital maintenance services and tools to unlock the full potential of predictive maintenance management, sensor-generated big data processing, e-maintenance support, proactive data processing and four levels of data analytics maturity.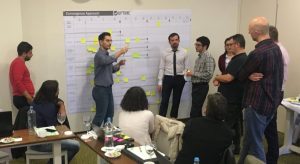 The project involves a total of 11 partners from Germany, Greece, Italy, France, Ireland and Cyprus. Even at a very early stage, the system is developed together with three end users and validated using the example of the production of tumble dryer drums, cold-rolled steel and large transport devices. Pumacy Technologies AG contributes its many years of expertise in the field of data analysis and visualization to the project. Based on different customer projects and harmonized with the development of the data analysis platform "Plexalytics", UPTIME is to merge Pumacy's own system components with the software modules of the European technology partners. UPTIME is a research project funded by the EU in the "Horizon 2020" program and runs until 2020.
Photo credit: Twitter