Veröffentlicht am: 23.03.2010
Pumacy achieves DIN ISO 9001 certification
ISO 9001 certification of Pumacy's quality management system by Deutsche Gesellschaft zur Zertifizierung von Managementsystemen (DQS) provides an assurance of quality in the provision of services. Pumacy is certified after ISO 9001:2008 – certificate number: 463296 QM08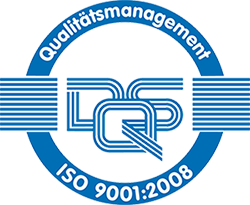 Pumacy Technologies AG has achieved the ISO 9001:2008 certification of its processes by DQS GmbH (Deutsche Gesellschaft zur Zertifizierung von Managementsystemen). The introduction of a quality management system is a proof of Pumacy's commitment to its own internal quality requirements.
Dr. Toralf Kahlert, CEO of Pumacy Technologies AG, explains: "We have been providing our services at the highest possible level to our customers in the aerospace and many other industries for almost ten years. During that time we have modified our internal processes and procedures following the requirements of the ISO 9001. The assessment of our quality management system was the logical final step; nevertheless we are aware of the challenge to continually improve our products, services and process to satisfy our customers' quality requirements."
Quality management systems provide the very basics to establish maintain and continuously improve an organisation's performance. This includes customer orientation, a process-oriented approach, cost reduction, and resource planning. "Enhanced customer orientation, a clear vision and strategic objectives help to achieve success in global markets. The successful certification is an important step in maintaining an organisation's competitive position. The DQS is a competent authority on management systems helping organisations to meet their quality objectives," said Dagmar Blaha, manager marketing & business development DQS.
About DQS
DQS German Registrar for Management System was founded in 1985 by the German Institute for Standardisation (DIN) and the German Society for Quality (DGQ) as the first German registrar for management systems.
DQS is an independent and competent management partner for companies of every size and all business sectors. DQS as a part of the worldwide DQS-UL Group is located in Frankfurt/Main and focuses completely on assessments and certifications of management systems and processes. DQS employs more than 2,800 people, including 2,300 auditors.
With 45,000 certified locations in more than 100 countries DQS belongs to the top group of international management certification bodies. More than 60 offices in almost 50 countries ensure a large scope of assessment services which guarantees customer proximity and lasting added value.